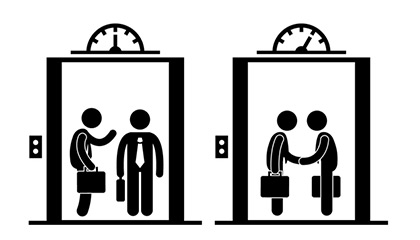 An elevator pitch (also called elevator speech or elevator statement) is a short business description of what your business is about and why someone should work with you. The goal of an elevator pitch is to create a memorable and positive impression and to open the door to further conversation. It is typically used in business settings such as face-to-face networking.
The pitch should be designed to pique interest, to give valuable tidbits of information, and to secure some sort of return communication. A successful entrepreneur will win an e-mail, phone call, or interview after an elevator pitch.
The length of an elevator pitch can vary, but you typically want to be able to present your elevator pitch comfortably without rushing in under two minutes, ideally in under one minute. The goal length should be 150-250 words.